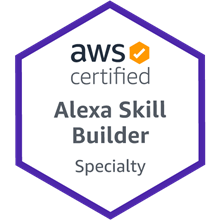 Back in January 2019, Amazon launched beta exams for AWS Certification Alexa Skill Builder - Specialty. Then I signed up to keep up my Alexa Skills knowledge. Previously, I worked designing and implementing the Eurostar Skill for Alexa during 6 months as par of the Innovation Team at Eurostar. It was quite intense project and at the same time exciting to work in that new technology in collaboration with Amazon Team in London. I learnt a lot, so I was looking forward to put all that learning into a certification.
Today, I've received an email from Amazon with the good news!
I'm happy to announce I've become AWS Alexa Skill Builder Certified!
All articles in this blog are licensed under CC BY-SA 4.0 unless stating additionally.