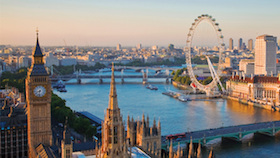 Ha llegado el momento, estas cosas no las haces hasta que todo tu ser en alma y mente no está preparado para ello. Y así es como me encuentro, preparado para el reto!
Desde hace 7 años, mi vida profesional ha estado relacionada con SharePoint, actuando como Desarrollador, Admin, Project Manager, BA, QA, y una larga lista interminable de roles… Mi paso por SolidQ y Riplife me ha aportado diferentes visiones del mundo IT a nivel nacional e Internacional, las cuales agradezco. Sin embargo, la espinita clavada de poder vivir/trabajar/aprender en una ciudad como Londres es muy tentadora para progresar profesionalmente en la dirección que quiero. A partir del 12 de Mayo de 2015 empecé a trabajar en Content and Code.
Mi intención con respecto al Blog es hacer el cambio definitivo de idioma al inglés, pero seguir comentando todos aquellos trucos, consejos, atajos, buenas practicas, lecciones aprendidas, etc. con los que me vaya encontrando en mi día a día. Quiero aprovechar y dar las gracias a todos aquellos que me siguen activamente en mi blog y os animo a que comentéis cualquier cosa que consideréis, sugerencia, mejora, errata, agradecimiento, etc.
Un fuerte abrazo!
It's the right time, you need to be prepared about soul and mind to take this decision. And that's how I am, ready for the challenge!
For 7 years, my professional life has been related to SharePoint, acting as a Developer, Admin, Project Manager, BA, QA, and a long long list of roles … My time at SolidQ and Riplife has given me different IT points of views in the national and international scope, thing that I appreciate. However, for me is a MUST to have the experience living / working / learning in a city like London. Since May of 2015 I started working at Content and Code.
My intention with respect to the Blog is to make the definitive English language change, but continue to discuss all those tricks , hints, shortcuts, workarounds, best practices, lessons learned, gotchas, how-tos and investigations that I encounter during my day job. I want to thank all those who actively follow me on this blog and I encourage you to comment anything that you consider, suggestions, improvements, typo, thanks, etc.
Cheers!
All articles in this blog are licensed under CC BY-SA 4.0 unless stating additionally.